You've booked your amazing tipi with Gold Coast Tipi's and now you need some awesome vendors to add to the line up. Today we're looking at mobile bars.
DIY weddings and festival style celebrations are so popular right now, and so many couples are marrying outdoors, building their wedding day from the ground up. We've seen couples passionately embrace the street food culture, swapping traditional alternate drop menus for food trucks that cook up delicious fare from around the world. Wedding catering is more exciting than it has ever been before!
Alongside food vans, people are also looking for alternative ways to serve their alcohol. After all, a wedding isn't a wedding without a chic bar to serve all those celebratory drinks. Thankfully, the Gold Coast has some amazing mobile bar vendors, all offering super cool, unique ways to serve ice cold beverages on your wedding night. From vintage caravan bars to kombi kegs, we love them all!
Here are some of the great suppliers we work with:
Austream Affairs 
check them out here austreamaffairs.com.au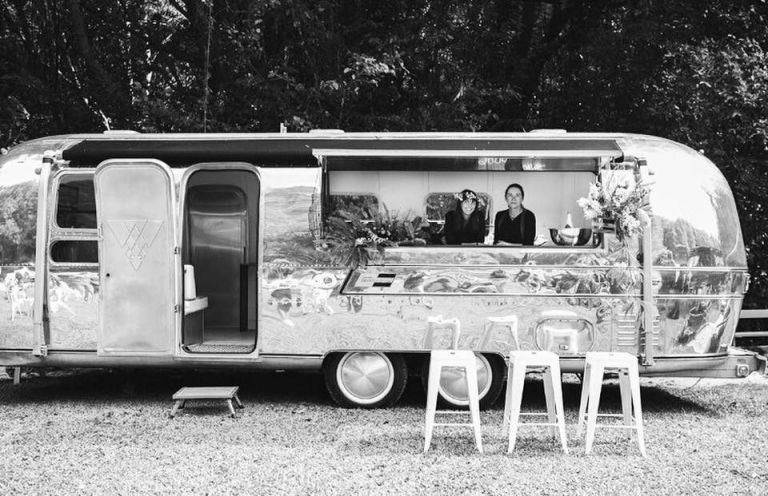 If you want to stand out from the crowd on your wedding day, take a look at Austream Affairs and their 1972 Airstream. This uber cool vintage trailer was shipped over from Kansas USA, and transformed into the sleek and shiny head-turner it is today. 'The Boss', as it's affectionately known, can be hired with a staffed bar, or dry hire for catering companies. There's enough wine and champagne glasses for up to 100 guests, and plenty of room to store our eskys full of your drinks. The Airstream also transforms into a DJ booth, or a make-up/hair station for a bride and her bridesmaids. Oh, did we mention that this awesome multi-functional space will soon be available for glamping too, stay tuned!
The Original Woodie Vintage Caravan
Check them out here:  The Original Woodie Vintage Caravan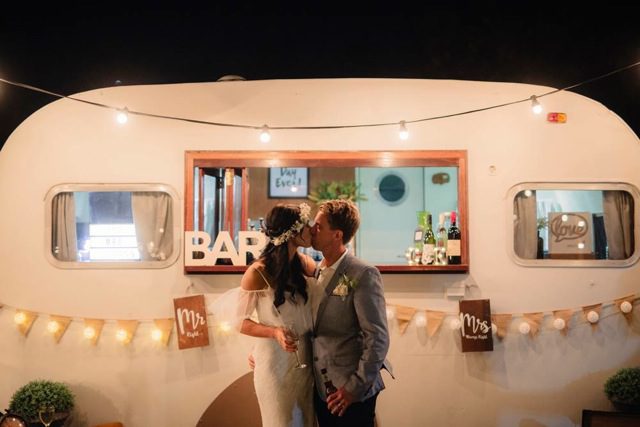 Step back in time with this sassy little number handmade in Melbourne in the 1940s. The Original Woodie Vintage Caravan bar has a tonne of character and charm, and can be decorated with props for that personal touch, at no extra cost. This family owned Gold Coast business has plenty of passion and soul, and can be hired with staff, but when the service is finished, there'll be ice buckets filled with drinks so guests can continue to celebrate the night away while helping themselves to a bevy or two.
My Vintage Lane
Check them out here My Vintage Lane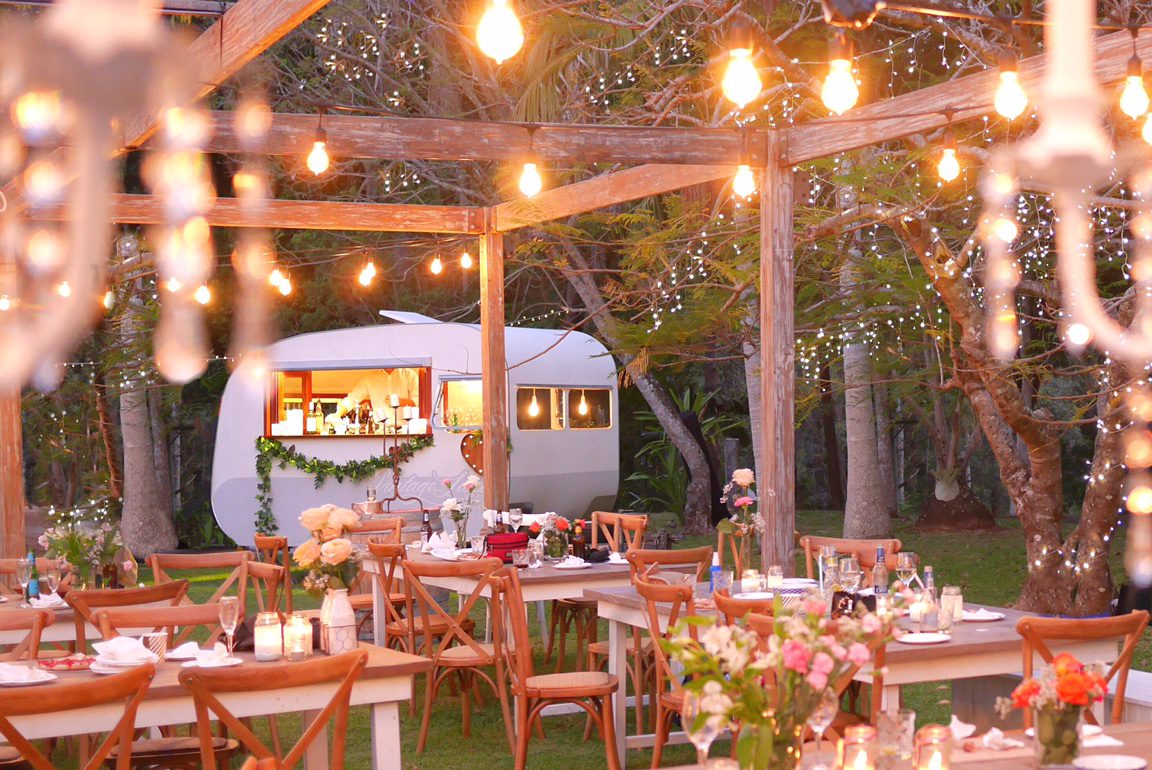 Raise your glass and celebrate your wedding day with My Vintage Lane caravan bar. This little beauty is gorgeous inside and out, and looks particularly stunning draped in greenery and fairy lights. 'Little Lane' has a beautifully crafted lounge inside, and comes with staff who always go above and beyond to ensure you have the best experience possible. It's obvious that owners Jonathon and Samara love what they do, because their passion shines brightly through every aspect of their business.
"They made our wedding reception extra special. Jonathon even captured priceless photos of our first dance, reception and more. We will be forever grateful for them going above and beyond for us on our wedding day." Rhiannon & Miles
Gathering Events
Check them out here: Gathering Event's caravan bar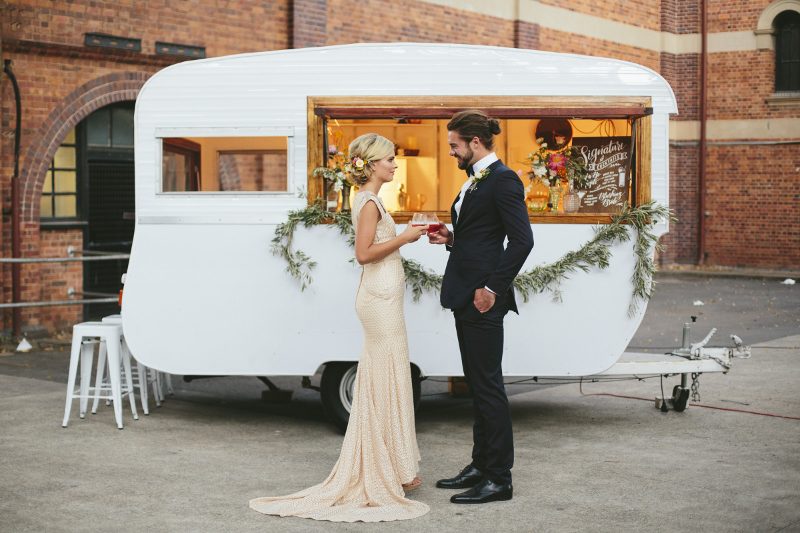 Adam and Jennny MacMillan spent 8 months of sleepless nights, early mornings and long weekends  renovating the Gathering Event's caravan bar to transform it into the picture of loveliness it is today. When you hire this chic little boutique pop-up bar you'll also have access to a team of 12 talented bartenders, specialising in everything from cocktails to whiskey! So if you love your margaritas and Mojitos as much as we do, check out this little beauty, it's really something special!
The One Day House
Check them out here:  The One Day House Hire
Perhaps you just want to hire a service bar and organise your own bartender, to create more of a DIY bar set up. The guys at The One Day House have many options that work so well alongside our tipis. From rattan bars, to timber top bars they have something for every style. You can also grab some great tables, chairs & furnishings while you're at it!